This is a busy week for Sierra Nevada golf courses with several opening this week.
The showcase Edgewood Golf Course in Stateline, NV, got a jump on its neighbors when it opened for play on May 4. The award-winning Edgewood hotel was closed in April and is scheduled to re-open Friday. The and salon also will re-open. The Bistro restaurant opened with the golf course last week and is available by reservation only.
This Friday, May 15, Grizzly Ranch will open its mountain track in Portola about 45 minutes north of Truckee. The nearby Dragon at Nakoma in Clio also is set to open Friday.
Old Greenwood in Truckee is scheduled for a Friday opening as well, while its sister course, Gray's Crossing is set to open May 22. The county policy shifted so golf carts and pull carts will be allowed. The other Truckee showcase public course, Coyote Moon, has scheduled a May 29 opening.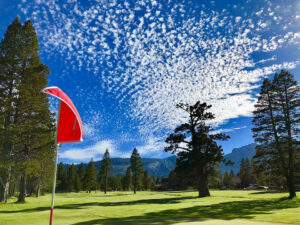 All the open courses are following the health department mandated COVID-19 precautions and social distancing. That means flagsticks are not touch, no bunker rakes and single-rider carts unless golfers live in the same household to name just a few.
Down in South Lake Tahoe, the Lake Tahoe Golf Course remains closed with an outdated message on the voice mail saying it hoped to open in early May. The situation is the same at Incline Village where golf and all other recreational facilities remain closed.
The nearby Tahoe Paradise course opened May 8.
Over in Kings Beach, the historic Old Brockway has its nine-hole track and driving range open daily. It routinely has the longest season of the courses around Lake Tahoe.
Expect all the courses to have changed how they operate to minimize the spread of the COVID-19 virus. The websites detail those changes that include all green fees paid by credit card so no cash changes hands.
By Tim Hunt