Shale Canyon is another quality winery in the ever-growing Carmel/Carmel Valley region. In what used to be a shopping/dining tourist area, wine is making a strong name for itself in Carmel-by-the-Sea.
Shale Canyon is located at San Carlos and 7th Street in Carmel-by-the-Sea and while set back in a courtyard of shops, it is well worth your time to take extra steps to the tasting room.
The genesis of Shale Canyon started in 2007
"In 2007 my two brothers, myself and our friend that was a winemaker decided to start a small boutique winery in Arroyo Seco AVA," explained Keith Prader, one of the owners and the winemaker.  "We started doing custom crush in Santa Cruz Mountains in 2008 and 2009 while we broke ground on the live-in winery and planted our small vineyard."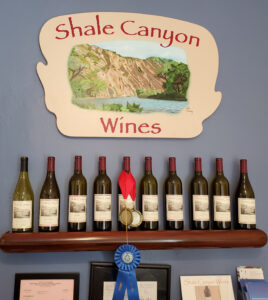 The four of them got it going when the vineyards started producing, using what they grow in conjunction with buying grapes to round out each village.
"Our vineyard is about seven acres and we grow Cabernet Sauvignon, Cabernet Franc, Merlot, Zinfandel, Tempranillo, Mourvedre and Petite Sirah," said Prader.
"We source fruit such as Chardonnay, Malbec and Syrah depending on our desired production for the vintage."
A few years back, the Shale Canyon team downsized in half.
"In 2016 one brother and the winemaker decided to retire so it is currently my brother Tim and myself as the winemaker starting with the 2017 vintage," said Prader. "Our winery is 100 percent "off grid" solar-powered, with well water for the irrigation and facility."
On our visit, Kristina was the hostess and was a delight, both as a knowledgeable wine person, as well as a conversationalist.
We started with the Merlot, a grape I am not traditionally fond of, but this unfiltered wine was solid. From there we went to the 2015 Zinfandel that is 100 percent Zin. It was a solid offering.
At that point we hit some big bottles, starting with the 2014 Cab Franc, a very professional bottle of wine that at $30 is a steal. It won e a double gold in a recent competition, taking an award from the professional side for bottles $30 or less, as well as the people's side for $30 or less.
Following the 2013 Cabernet Sauvignon, we hit upon my favorite bottle of the tasting – the 2015 Partners Consortium, a Bordeaux blend that stands up strongly against any other bottle in the area.
The Cab Franc is the go-to for Shale Canyon.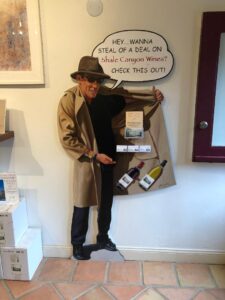 "Our 100% Cabernet Franc is definitely our signature bottle," said Prader. "We have a Bordeaux blend we call Consortium that is very complex and a lovely reserve wine."
There are more surprises coming.
"I am just releasing our Amalgamation Reserve, which is a blend of Zinfandel, Tempranillo and Petite Sirah," explained Prader. "While it only has seven months of bottle age, it is drinking very well currently and will be fully educated in about two years. I just hope I can hang on to some as we only produced 141 cases."
One wine that was not being poured on our visit was the Mourvedre, one of my favorite grapes. The problem was solved when I bought a bottle and had it opened. Good choice.
"Our 100% Tempranillo and Mourvedre offerings are fan favorites," said Prader.
A visit to Shale Canyon will enhance your opinion of Carmel-by-the-Sea as a legitimate wine destination. Do yourself a favor and make sure to stop by Shale Canyon!
For more information call (831)-332-2227.
By Dennis Miller