Kori Violini had been in farming for years, growing grapes, avocados, and lemons, but wasn't really involved in the wine business.
Violini did enjoy wine and they did sell their grapes, so a foray into the industry seemed a natural step.
"I wanted to make what I like to drink," said Violini from her wonderful tasting room in Carmel-by-the-Sea. "We knew we had a good thing."
Located just off the top end of Ocean Avenue in the charming, yet vibrant downtown area, KORi Wines opened in April of 2019 and in less than a year has established itself as a must visit when in the area.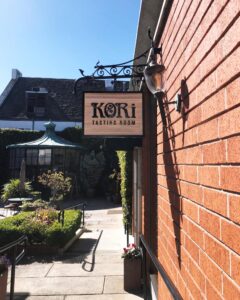 There are many tasting rooms in Carmel-by-the-Sea and KORi is one of the most recent to open. But unlike good wine that takes time to age, KORi has come out of the gate running.
Located on Mission St., between Ocean and 7th Ave. (remember there are no physical addresses in Carmel-by-the-Sea), KORi is right across Mission from the Carmel Plaza, the location of the famous Cheese Shop.
You can enjoy the great wines of KORi and just a solid wedge shot away is a home for some world class cheese.
Violini is everything you would want in the owner of winery: personable, welcoming, vibrant and equally as knowledgeable -in other words – perfect. We were blessed to have Violini guide us through a tour of her sumptuous wines.
We started with the 2018 Sauvignon Blanc ($24 a bottle), a wine I normally shy away from. It was a pleasant surprise how wonderful and tasty this wine was to drink. The grapes come from the Arroyo Seco region and was a solid start to our tasting experience.
Next up we went with the 2018 Rose ($24), made from Pinot Noir grown on their Highland estates. It is a lot closer to a red wine than a white wine thanks to the Pinot grapes. Most Rose's don't have a lot of skin contact, but this one does.
From there we got into the heavy hitters, the 2017 Pinot Noir ($49), 2014 Pinot Noir ($49) and the 2017 Syrah ($42).
The 2014 is the wine that started it all for KORi and is a strong bottle, but the 2017 was another step up! If you are a Pinot fan – of which I am a big one – these two bottles will add to any collection you might have.
The Syrah is an award winning and was a bottle we brought home with us from the winery.
There is no shortage of wine tasting rooms in Carmel-by-the-Sea, with most being quaint rooms located back off the street. These are hidden gems and worth finding. KORi is one that should be at the top of your list – both for the wine and the ambiance!
To find out more about KORi, go to www.koriwines.com.
By Dennis Miller