When touring the wineries of the Napa Valley, the majority fall right off Highway 29 or the Silverado Trail.
And to be sure, there is no shortage of world class wines to taste along those routes.  But while it's tempting to stay on the beaten path, don't pass on the ones that are a tad bit off the normal flow of visitors.
Such a place you don't want to miss is Etude.
It's the type of winery you don't stumble upon, but rather one you need to seek out and Etude is one worth finding!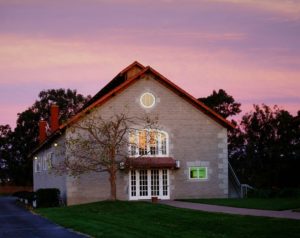 Established in 1982, Etude was founded on the philosophy that winemaking begins in the vineyard, long before harvest, and that superior grape growing allows their winemakers to craft wines of exceptional varietal expression and finesse. This ethos remains unwavering as the winery continues to build upon its established legacy of exemplary Pinot Noir.
Etude specializes in a selection of white and two classic red varietals – Pinot Noir and Cabernet Sauvignon. Though modeled on the best from Burgundy and Bordeaux, these wines speak clearly to their contemporary California origins, combining rich, ripe fruit with an elegant structure and opulent mouthfeel.
There are a variety of tasting options, ranging from your traditional tastings to specialized offerings.
We opted for the Study of Pinot Noir and it was well worth the $60 per person pricing. Even though Etude makes some excellent Cabernet Sauvignon, we went with the Pinot Noir for which is what they are known best.
Pinot Noir expresses the place it was grown to a degree that no other wine grape can. Experience how terroir influences the aromas and flavors of this delicate and popular varietal. Taste five Pinot Noirs from five distinct growing areas, all made by Etude Winemaker Jon Priest, in a semi-private, seated experience in the Heirloom Room.
There are three of these tastings a day at 10 a.m., 1 p.m. and 3 p.m.
It was a wonderful learning experience to see – there are maps in the room – as well as hear where all the different Pinot grapes come from that Etude uses in their winemaking.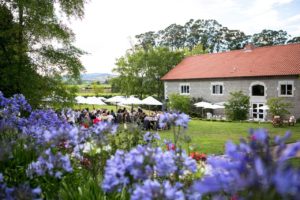 Our favorite bottle was the 2015 Heirloom Pinot Noir ($95 per bottle). It's their most famous wine – the one that put Etude on the map. Also known as the Pinot for Cabernet lovers. Its persistent nature makes for great ageing potential as the nuanced aromas and flavors will continue to harmonize with cellaring.
We were fortunate to enjoy an additional tasting from off the menu of the 2015 Deer Camp ($85 a bottle) from the Carneros region. This was the most intense wine we tasted, not something for everyone in our group, but one that I thoroughly enjoyed.
We enjoyed the tasting of the Heirloom so much, we bought a bottle, then went and sat outside, enjoying the day and the peacefulness of Etude's property.
In terms of other tasting options, you can't go wrong with the Cabernet Focus tasting as well, which goes for $75 per person.
You'll taste a flight of five signature Cabernets (including library selection), each from the Napa Valley, Saint Helena, Coombsville, Rutherford and Oakville AVAs. Tasting is conducted in a semi-private seated experience in the Angels' Loft, overlooking the winery below and it includes a brief tour.
The Collectors Tasting ($35 per person) includes a flight of five signature reds, with it being held in the tasting room or the patio, weather permitting. The Etude Tasting ($25 per person) is flight of five signature wines, mixing white and red selection. This offer takes place in the tasting room.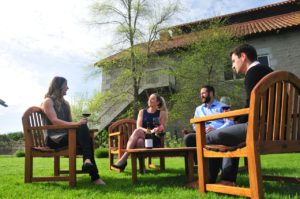 The grounds are beautiful and if the weather is nice, I recommend picking up a bottle or two, have it opened and enjoy the ambiance of the property.
Given its location at the southern end of the Napa Valley, Etude is the perfect place to either start or end your day.
For more information on Etude, please visit www.etudewines.com.
By Dennis Miller