Most wine lovers at some point share the same dream – wouldn't it be great to have your own winery, crafting a sensational product, and then sharing it with others on a daily basis.
Dave Del Dotto had the same dream and since 1990 he has been living it.
"When I was 35, living in Kona (Hawaii) and had an ocean-front house, I remember sitting on my deck, watching the waves come in and drinking a great bottle of wine," explained Del Dotto. "I was thinking about my future – what I will do when I get old. I thought, wow, it would be fun to meet everyone in the world. How was I going to do that? If I can make the best wine in the world, I will sit my garden and they will all come have a glass of wine with me. I thought it would be a cool life."
It has been. In 1998, Dave and his wife Yolanda vacationing in Napa and Dave was picking up some wine for his personal collection. Dave noticed a 17-acre estate off Highway 29, became enamored, bought the property and moved to California.
Within two years he planted new root stock of Cabernet Sauvignon, Cabernet Franc, Merlot and Sangiovese. Del Dotto found success right out of the gate, earning 92 points from Wine Spectator for his first vintage.
It has gone uphill from there with recent ratings from renowned wine expert Robert Parker Jr., showing a 98-100 for the 2012 Cab "The Beast",  a 96-98 rating for the 2012 Cab Vineyard 887 and 98-100 for the 2012 Del Dotto Cab.
Other recent ratings 2013 Del Dotto Cab Villa Del Lago (94-96), 2012 Del Dotto Villa Del Lago (95 points), 2010 Del Dotto Cab Ca Nani Vineyard (98 points), & the 2012 Del Dotto Proprietary Red Blend The David (96 points).
But what sets Del Dotto apart from the countless wineries that produce exceptional, world-class wines is his love for the people who visit his Estate winery right off of Highway 29 in St. Helena.
It easy for someone to say they enjoy interacting with their customers, but spend some time with Del Dotto and it is easy to see he does not take those words lightly.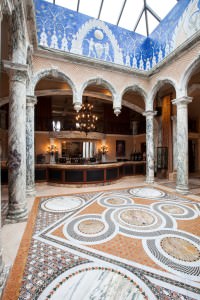 In 2000 Del Dotto opened the caves at his first facility located by the Silverado Country Club for tasting and tours. For Del Dotto, it has always been a lot more than opening a bottle and pouring a few tastes for his guest.
The standard tour has always involved venturing into the caves and tasting from the barrels before heading back to the tasting room to experience the final product.
"We love to teach people the basics and the complexities of wine," said Del Dotto.  "People will bond with that, love it and get to know more about wine. If we can teach people that, they will be able to enhance their lives at home with a great bottle of wine."
The experience is one of the best a wine lover – or even one a person just getting into wine – can have. The staff at Del Dotto understands ultimate customer service and there is a reason they are always busy.
"You're going where the wine is, not standing at a bar drinking wine out of a bottle," emphasized Del Dotto. "You are bonding with the wine in the cellar, experiencing the smells, the ambiance and the look. It is a much more powerful experience with the wine. Standing at a bar doesn't teach you the sacredness or how hard it was to make the wine."
After spending seven years in the caves off Atlas Peak Road in Napa, the Del Dotto's moved to their estate winery in St. Helena. Perhaps palace is more appropriate as the facility will take your breath away the minute you walk through the doors.
Del Dotto spared no expense with the second facility, importing Italian marble, Venetian chandeliers and mosaic marble floors. The décor carries through the caves, providing the ultimate tasting experience.
The Del Dotto's have a sister winery in Villa Del Lago on Pritchard Hill in the Napa Valley. The winery produces an ultra-premium brand. They have plans to open up a third facility.
The plans are to open Piazza Del Dotto across the street from Mustard's in Yountville and focus on wine and food pairings. They are hopeful to open Phase One by the end of the year.
In order to get a running start on the food/wine pairings, the Del Dotto's have started the service at the estate and thus far has been very well received. The tasting consists of five luxurious bites paired with the Del Dotto wines.
By Dennis Miller