Walking on to the Las Positas Golf Course in Livermore, I had no idea what to initially expect. All I knew was that FootGolf entails using your foot in place of a golf club, and a soccer ball instead of a golf ball. Aside from that, I was walking into completely unchartered territory and I was nothing short of terrified.
Founded back in 2011, the American FootGolf League has headed the new trend and creation of FootGolf courses throughout the country. FootGolf is actually played on the same course as regular golf. At Los Positas, the 9-hole course has separate greens and holes that have been strategically created so that FootGolfers can play alongside regular golfers on the Links 9-hole course.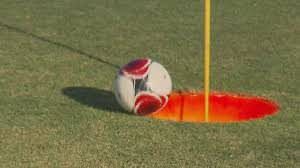 From personal experience, I can truly say that it worked very smoothly. I was initially very hesitant to play alongside groups of golfers, but Jeff DeBenedetti, the Director of Golf at Las Positas Golf Course, assured me that as long as I was courteous and either waited for the golfers (since they take a bit longer) or asked to go around them, that there shouldn't be an issue.
He also explained that the "hard-core golfer", as he says, plays the 18-hole Signature course and is not affected by the FootGolf players.
Since August of 2014, when Las Positas decided to put FootGolf in action on their course, Jeff says there have been little to no complaints from golfers.
"As long as the staff is educated and on board with FootGolf, that it can easily work and shouldn't upset the other golfers," said DeBenedetti.
Originally, many golfers were concerned about FootGolf slowing their game down, but the 9-hole course that Las Positas has in place typically takes around just 45 minutes to finish.
It has been a hit out of the gate. Original estimates were for 3,000 rounds the first year, Las Positas ended up experiencing around 5,000 rounds back in 2014.
In 2015, popularity continued to rapidly increase as they hosted around 7,000 rounds of FootGolf, far surpassing their estimate of 4,500 rounds.
As business continues to steadily increase and people continue to discover the excitement of FootGolf, Las Positas is focusing in on using FootGolf as a bonding event for teams and companies.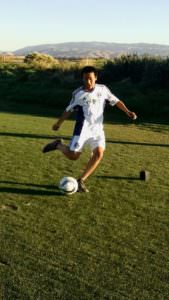 They've hosted several corporate company parties where they have buses of employees come play FootGolf to unwind for the day and get to know their co-workers better.
Soccer teams all over the East Bay – including Ballistic United from Pleasanton and Mustang Soccer from Danville – have really enjoyed utilizing the FootGolf course as a fun team-bonding event.
I think what is most important to emphasize about FootGolf is not just that it's incredibly fun, but that it's for anyone of any age. Jeff mentioned to me that just last week an 80-year old grandpa beat his grandkids in a round of FootGolf.
If he can do it – and beat his grandkids – I'm pretty sure anyone can. At Las Positas, one round of FootGolf is $10 per person and you can either bring your own ball or pay $3 to rent one of their five soccer balls.
FootGolf is available at any time of day, so no need to worry about mandated times. Heads up though – there are no cleats allowed on the golf course, so make sure to wear some regular tennis shoes and be prepared to walk the course. I also learned the hard way that sunscreen and water are necessary.
Best of luck to you out there on the golf course – and good luck beating my round of 55. There are a number of courses in the Bay Area alone and you can find a location on http://www.footgolf.us
For more information on Las Positas, go to http://www.laspositasgolfcourse.com
By Kelsey Emery