Monterey Peninsula Country Club (MPCC) continues a legacy of strong leadership with the announcement of JJ West's promotion to General Manager, effective June 1, 2018. West succeeds General Manager, Michael Bowhay, who will retire later this year after 28 years as the Club's General Manager. West has served as Assistant General Manager of MPCC since November 2016, and his promotion follows a rigorous executive search process.
"I am honored to follow in the footsteps of Michael Bowhay," says West. "He is a legend in golf and country club leadership, and I'm proud to be carrying on his legacy. I relish the opportunity to build a management team that will continue to position MPCC as one of the finest private clubs in North America. Our goal is to achieve a consistently outstanding member experience through careful attention to every aspect of our service and facilities."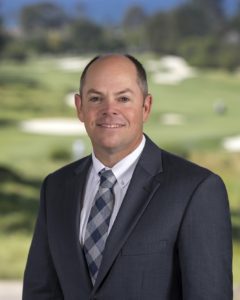 West's past managerial positions and experiences have prepared him well for this opportunity. He spent the early years of his career as a Professional Golfer before transitioning into private club management. At Castlewood Country Club (Pleasanton, CA), he worked his way from Golf Professional, to Clubhouse Manager, then to Assistant General Manager and finally to Interim General Manager. The St. Francis Yacht Club (San Francisco, CA) recruited West in August of 2015, to serve as General Manager/COO of the number one yacht club in America. In November 2016, MPCC presented West with the opportunity to return to his first and true passion, the golf and country club industry.
"JJ has consistently demonstrated his ability to connect comfortably with the membership, to seek and process their input, and to build a team of highly competent staff who share a passion for achieving excellence," says MPCC Board President John Young. "As General Manager, he will now have a larger canvas on which to demonstrate these same talents, leading a group of true professionals and seasoned veterans."
West is replacing retiring General Manager, Michael Bowhay who devoted 28 years of his career to MPCC. Bowhay joined MPCC in 1991, and has been a dynamic, positive force in the evolution of MPCC throughout his career. He has overseen MPCC's development from a purely regional club, into one of the premier, nationally recognized country clubs. Today, MPCC boasts two spectacular, ocean-front golf courses with outstanding facilities and services. During Bowhay's tenure, MPCC earned recognition as a Distinguished Elite Club of America (2014–2018); has been included in the select list as a Platinum Club of the World (2016–2018); and plays host to the AT&T Pebble Beach Pro-Am.
"Michael and JJ already have a close and collaborative relationship which will enable them to seamlessly transition responsibilities over the coming months," says Young. "While JJ begins to assemble the new key management team members, Mike's intimate knowledge and connections will be invaluable."
"Monterey Peninsula Country Club has a long history of offering a superior member experience in a superb, natural setting" says West. "I have deep respect for our heritage and I look forward to navigating the Club smoothly through its progressive evolution."