Living in Denver in the 1960s, Tom and Sally Jordan were "foodies" suffering in what they described as a gastronomic desert, so they made many trips to France.
They fell in love with the Bordeaux region and planned to retire there. They mixed in a few trips to California and were stunned when their favorite sommelier at Ernie's restaurant in San Francisco served them a Georges de la Tour Napa Valley Cabernet Sauvignon. He said he'd pay for it if they didn't like it—they loved it and shifted their retirement plans to California.
A few years later, Sally Jordan, pregnant with her son John, signed the papers to purchase about 1,200 acres in the Alexander Valley of Sonoma County. She went into labor and gave birth later that day. So said our tour guide Michelle Kofman earlier this month.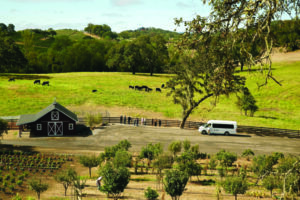 This year both their namesake winery and John celebrate their 50th birthdays. As you would expect, the Jordans focused initially on Cabernet Sauvignon and realized, after three years, it needed a sister so Jordan Chardonnay came into being. In contrast to many wineries, Jordan only makes one Cab and one Chard each vintage.
The founding Jordans, having tasted the excellence of the Beaulieu reserve cab made by famed winemaker André Tchelistcheff, wanted him for their fledgling winery. Sally wined and dined him to convince him to oversee the winemaking at their chateau. He agreed with the condition that he select the winemaker. He chose Rob Davis who was 22 years old. Davis spent his entire career at Jordan, retiring in 2019 and handing over the winemaking to Maggie Kruse who joined the winery in 2006. That's two winemakers and two owners in the same family over 50 years.
The signature French-inspired chateau contains the original huge oak barrels that were installed before the walls went up in the 1970s. They hold about 24,000 liters of wine. The working winery produces 100,000 cases a year, 70,000 of which are French-style Cabernet. Davis took the same approach with the chardonnay so it's more minerally and designed to age unlike many California chardonnays. The chardonnay grapes are purchased from growers in the cooler areas of Sonoma County closer to the Pacific Ocean so it carries a Russian River Valley appellation, while the Cab and Bordeaux grapes are grown on the estate and throughout the Alexander Valley.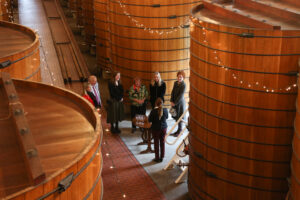 Because of its French style, Jordan's contracted growers pick their chardonnay grapes early with lower sugar level than many others. That paid off during the horrible 2019 fires when their harvest was finished before the raging fires broke out. Other wineries were leery of smoke taint and reluctant to pick so Jordan teams helped out growers by picking their fruit. That was remembered when Jordan was able to land new contracts for vineyards in 2020 that they'd had their eye on for years.
During our tasting and tour, we started with a 2016 chardonnay. We started with a history lesson and a walk to the scenic overlook from the southside of the winery. It has a one-acre garden used in its culinary program as well as two donkeys, three goats and beehives. As the winery has been replanted over the years, an olive tree orchard was added that becomes Jordan olive oil that is featured in the tastings.
Jordan has made two major shifts. When it had to replant its red wines when Phylloxera attacked its vines in the 1990s, it started planting vines in hills around the chateau for the first time and added Bordeaux varietals Petit Verdot and Cabernet Franc to the Cabernet Sauvignon and Merlot.  When another virus attacked in the 2000s, vineyard manager Brent Young took advantage of technology to map the soils and plant vines in orientations to maximize the quality of the fruit.
The elder Jordans lured their son, who had earned masters degrees in both business and law and was practicing law, back to the winery. He took over as CEO in 2005 at the age of 33 and purchased the winery when his parents retired. He holds a pilot's license for commercial transport as well as certifications for Gulfstream and Cessna. He's served in the Navy reserve since 2000.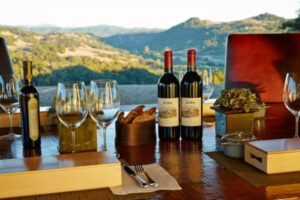 He's active day-to-day as general manager. Michelle told the story about one day she was assembling wine boxes and he asked her to teach him how. He worked with her for an hour putting together boxes—not a typical activity for a CEO. His YouTube video describes his typical day as walking around from department to department checking with his employees.
Our tour finished in the library and private tasting room. We were served the current 2020 Chardonnay paired with crème fraiche topped with a pea soup fresh from the garden. Wonderful combination. The winery still is offering 2013 chardonnay on its website, which attests to how well the white wine ages. Hafner makes its reserve chardonnay in a similar fashion.
We then adjourned to tasting room with 12 of us seated around a large wood table. The 2016 and 2018 cabs were on the tasting menu accompanied by four cheeses, lamb over lentils, estate olive oil and a fruit compote. You had to be careful with your tastes to be sure you had another wine to taste with the varied offerings.
Jordan tours are by appointment only. The 90-minute winery tour and tasting is $75 while a 3 ½ hour bus tour that includes a continental breakfast and a light lunch at the highest point on the property is $150.
By Tim Hunt