Incredible. Hard to believe. Surrealistic. Beyond Belief. Unimaginable.
All words that can be used to describe the B. Wise Estate Cave experience but perhaps the phrase, "Are you kidding me," best sums up what you get if you are honored enough to get a visit.
We knew it was going to be a special experience when in order to get to the property we had to twice enter through gates requiring a code. It was all that and more.
Previously I profiled the B. Wise Tasting Lounge on Highway 12 in Kenwood https://acesgolf.com/b-wise-vineyards-great-wine-and-company-in-kenwood/ and found it to be a wonderful experience with high quality wine and personable, genuine staff.
Then we got to visit the Estate Cave and, as mentioned above – are you kidding me.
Throughout the years I have had the chance to experience many cave tastings and most all have been memorable, but nothing has compared to what we enjoyed at B. Wise.
B. Wise is owned by the husband/wife team of Brion and Ronda Wise. In addition to their Tasting Lounge, the caves are located up in the hills above Boyes Hot Springs, just outside of Sonoma.
By the time you reach the top and the property, you are transported into a beautiful, sanctuary area. It's as peaceful as it is beautiful.
Our hostess for the day was Jackie Paul, the Tasting Lounge Manager for B. Wise. Paul explained to us that Brion built the caves himself. She was extremely knowledgeable about the wine, as well as the caves and the family.
Brion and Ronda lived in the caves – something one of my sons said he would be more than happy to do – initially while their house located on the property was built.
It hardly would be considered roughing it.
There are bedrooms, bathrooms, a lounge area as well as other spots for tasting. Every corner seemingly brings a new surprise, with each room impeccably decorated by Ronda.
It's almost unfathomable to see these living spaces that share caves with world class wine.
It's the perfect mix.
It's not a tasting experience available to everyone – prospective guests are vetted before a reservation is taken and members have priority – but if you can get a spot, don't miss it. They want only serious wine drinkers that have a solid knowledge of wines and will appreciate what they are drinking.
We have had experiences with groups in wineries that are there to get hammered and don't care about the quality of the wine. That thankfully will never happen at the B. Wise Caves.
Nearly lost in the beauty and wonderment of the caves is the wine. The B. Wise wines, as well as the Brion wines, are as good as any I have had in the region. We tasted several wines on our visit, accompanied by a plate of cheese, crackers, salami and olives.
We were expertly led through our experience by Paul. After growing up in nearby Sebastopol where she was around the wine industry, Paul went to San Diego State and following college she went to work in the wine business, putting in some time at Kunde, as well as a small winery in Healdsburg for her parents.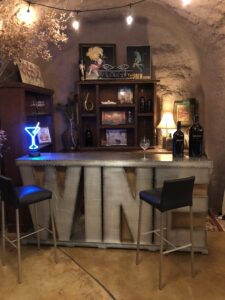 "I needed a new challenge – I wanted to be at (B. Wise)," said Paul. "I interviewed for over four months and have now been here four years. I told them I was never going to leave."
It's easy to understand Paul's feelings. World class wine, world class facilities and a staff as aimable as any I have been around. All this from a winery that relies on people that have embraced their wine to get the word out to the wine world.
"We don't market or advertise," said Paul. "It's all word of mouth. Our club members are our biggest advocates."
There's no desire to make more than 8,000-10,000 cases a year. In other words, stick with what works and stay true to what you started.
We tried several wines with my favorite being the 2015 Willamette Valley Pinot Noir from Oregon. At $65 a bottle, this is a steal and stacks up against any Pinot I have had before.
The 2016 Nobles Vineyard Pinot from Fort Ross was another solid bottle. It's not just the B. Wise Pinot's that are world class. The 2005 Estate Grown Cabernet Sauvignon ($95) and the 2015 Napa Valley Cab ($125) – a bigger Cab than the Estate bottle – are two high quality Cabs.
Finally, the 2015 Estate Grown Block One Syrah ($75) is another wonderful, versatile bottle of wine.
There's more good news for B. Wise fans as in the near future they are opening a new winery in Yountville featuring the Brion wins, all wines made from single vineyard grapes.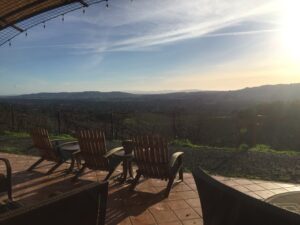 We had a chance to try the Sleeping Lady vintage and it is a huge deal at $185 a bottle. It's a wine that will easily hold its own against much more expensive in the Napa Valley.
There are no trimming corners in the production of B. Wise wines. The family also has a Master Cooper on staff – one of only 34 in the world – to craft their barrels. It's just another example of the pride that Brion and Ronda take in their wine and the lengths they go to in order to make world-class wine.
As I have mentioned countless times there are many quality wineries in the Sonoma Valley so how exactly do you pick the ones to go to when in the area? Simple – take the entire experience into consideration and as far as B. Wise goes, there may not be many, if any, that are better than B. Wise.
B. Wise arguably provides the best of both worlds and is without a doubt a must visit.
For more information please go to www.bwisevineyards.com.
By Dennis Miller