Horse racing has seen better days. It's not a secret there are serious issues with a sport many have said is on life support.
There are many things that can be done to keep the sport alive with one being keeping passionate horse racing lovers involved in the sport. You need intelligent,knowledgeable, respected and passionate people involved. You need people that will entertain and inform fans.
You need people like Megan Devine.
Currently Devine is a part-time on-air personality for TVG and the Social Media Manager for Sky Racing World, the exclusive North American distributor of thoroughbred racing from Australia, South Korea and South Africa.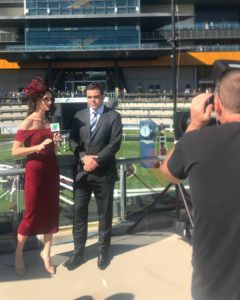 In a short period of time, Devine has worn several hats, working for NBC/NBC Sports, Santa Anita and many other tracks. She has worked with NBC on the Triple Crown and Breeders' Cup races every year since 2012, as well as working on Sunday Night Football in 2014.
Being involved in horse racing was a natural for Devine, who is from Long Island, New York. Like so many people in the industry, Devine grew up going to the racetrack with her father. For Devine it was the New York tracks of Belmont, Saratoga and Aqueduct, places that hooked her on the sport.
"I loved going down to the paddock and watching the horses," said Devine.
She also started as a competitive equestrian at the age of seven and climbed the ranks to compete in the USHJA Emerging Athletes Program, a talent scout initiative. In fact, when she was at college at the University of Louisville – she graduated from the Equine Industry Program with a Bachelor of Science in Business Administration– she was the captain of the Intercollegiate Equestrian Team.
She also qualified in the top 16 for the National Finals of the United States Hunter Jumper Association's Emerging Athlete's Program.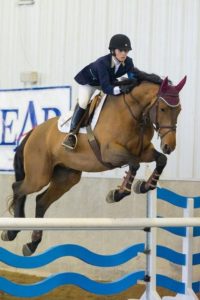 Her experience in the equestrian riding has helped her with her horse racing acumen.
"I think it's a natural tie-in for me," said Devine of the horse racing/equestrian blend. "It's a strength for me. It helps me see the horses better. When I look at a horse, I can just feel it. My knowledge of the physicality and mindsets of horses helps me to have a greater understanding of the animal and how they may perform."
Devine gained valuable industry experience when at college at Louisville. But she didn't envision the chips falling where they have when going through school.
"Honestly, I had no idea I would work in sports television," said Devine. "I thought maybe I would be a bloodstock agent or the manager of a stable. The networking opportunities I had were great. I had the ability to access people (in horse racing) that I would not have had in other places."
Devine, a avid fan of the sport in which she makes her living, is pained by the struggle of the sport as well, knowing that things must change.
"I certainly hope so," said Devine when asked if horse racing can survive. "But I always tell people if (horse racing) doesn't survive it's because we killed it ourselves. It's very much everyone for themselves and we can't be that way. We are hesitant to adapt or change at times."
What steps would Devine implement to help horse racing.
"We need people to feel it – to experience it," said Devine of getting racing fans more involved or closer to the sport. "The horses are my favorite part of the sport.The story lines are so cool. There are so many people involved with each horse and there are such great stories."
There's been some movement in the industry to bring in administration from other sports or entertainment people. Divine feels it's not a bad idea, with some qualification.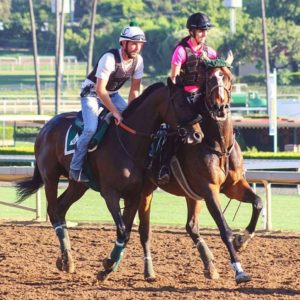 "It's healthy to have people from other sports," said Devine. "When I go to other events, I am always taking note of everything they are doing. Last season I went to a number of Las Vegas Golden Knights (NHL) games and it was an amazing to see how they operated and kept an entire stadium of fans engaged. Their use of the big board, music, comedy, showmanship, etc. It's brilliant. It's good to have new ideas and influences, but there does need to be some consultation with horsemen and track management."
Horse racing is a sport that Devine loves as a fan and is one that she hopes to be involved with for years to come. Just ask her where she wants to be in 10 years.
"I would be involved with NBC broadcasting major horse racing events," said Devine. "But I would also like to be involved in other sports, like the Olympics!"