Paige Spiranac, the breakthrough professional golf competitor and personality, will make her inaugural appearance at the American Century Championship celebrity golf tournament in Lake Tahoe this summer.
The 25-year-old college golf standout at San Diego State and social media sensation produced a win on the developmental Cactus Tour in 2016 and will test her skills against the competitive celebrity field as she continues to pursue her professional career in golf and modeling.
Now in its 28th year, the American Century Championship is set for July 14-16 and is offering a purse of $600,000, while raising money for local and national charities.
Spiranac is a rising star on the sports and entertainment landscape committed to demonstrating the joy of competition while promoting positivity among young people in the online world. As a child, Spiranac was an elite gymnast and more recently has become known for promoting fitness training on social media and specialist golf sites. Simultaneously, she has worked hard on her golf game and last year won her first pro event on the Cactus Tour by shooting a final round 68 and then triumphing on the first playoff hole at the Orange Tree Golf Resort in Scottsdale, AZ.
Earlier this year, she became an Official Ambassador of the Cybersmile foundation, an organization focused on battling cyber bullying. Spiranac uses her reach on social media to bring attention to the rising issue of online bullying and to provide access to Cybersmile's resources. Spiranac's Instagram account is just shy of 1 million followers, rivaling PGA stars Jordan Spieth, Rory McIlroy and Rickie Fowler, and she has 186,000 followers on Facebook along with 121,000 followers on Twitter.
Recently ACES editor Dennis Miller had a chance to talk with Spiranac about the American Century tournament, golf, social media and her campaign against cyber bullying. Following is excerts from the conversation.
For more information on the American Century, go to www.americancenturychampionship.com. For more information, as to what's new at Edgewood, check out https://acesgolf.com/resort-at-edgewood-now-taking-reservations/.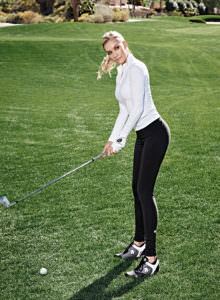 How about getting a spot in the American Century this year?
It's really cool. I have watched it in the past and it seems like so much fun! They have that crazy hole (No. 17, par 3 along Lake Tahoe) that looks so awesome. I have played in a lot of charity events, but this will be different. I am sure I will have buddies there to heckle me when I hit a bad shot. As a family, we are really looking forward to it. My fiancé is friends with (skier) Bode Miller and he's told us how much fun they have had there.
Any desires regarding who you are paired with?
It's funny – my Dad played football and my fiancé played baseball so they have people they would like to see me paired. I am just excited and looking forward to being there. It doesn't matter to me – I'm just excited with the chance to be paired with some legends.
How did you get started playing golf?
I kind of had a late start compared to other professional golfers that start at like two or three. I was an elite gymnast – I wanted to make the Olympics – but I fractured my knee twice and that was the end of that. My Dad said why don't you try golf. I originally tried tennis as my Aunt was a professional, but that was a lot on the body and my knees. With golf, I liked how I could set my own schedule and that it was an individual sport. It was something different as I was used to being in the gym with all the other girls for seven or eight hours a day. I liked it being able to practice when I wanted to and pushing myself.
Was there a time you can remember when you thought you could be good?
I went into golf wanting to be a professional – that's a mentality I've always had. I wanted to go full out and wanted to be good at it. Golf is difficult in that you go back and forth, up and down.
How did you end up at San Diego State?
I played a lot of junior tournaments and was recruited through those. I originally ended up at the University of Arizona, then went to San Diego State.
Was it at San Diego State where social media came into play?
I was on social media as is any other teenager, but deleted it after I was cyber-bullied. At SDSU, the team made a (trick-shot) video that went viral on YouTube and I thought it might not be bad to get back into it.
And it exploded from there?
I just posted pictures of golf because I thought people couldn't be mean with those. It was the summer of 2015 and it seemed to go from 500 to 50,000 overnight. Then it went to 100,000 to 200,000 – it was crazy. I never tried to get it that big – it was hard to deal with at first.
But the business side of social media turned out to be huge for you
I started getting offers and figured out that it could help me pay for everything I needed to turn professional. Companies started approaching me, but I was still nervous and didn't think anything would come of it. I still can't believe I have almost one million followers on Instagram.
Tell me about your involvement with the anti-cyber bullying campaign with Cybersmile
The first thing is to make people aware exactly what (cyber bullying) is. You have stalking, blackmail, death threats – people can get to you through their phones. We must make people aware how dark this can be. There are people out there telling people they should kill themselves. We are trying to be proactive to protect kids and people that have been victims.
Do you caution people on how to use social media?
You have to be extremely cautious what you put out there. You need to be aware that what you post can hurt you in the future. People that have been harassed can find the person online, call their job and maybe get them fired.
Has it been tough balancing your social media commitments and your golf game?
Last year was my first year as a pro and I thought I played great, but it wasn't as fun as I thought it would be. I felt like I was being pulled in so many directions and I struggled with balancing everything.
And now?
Right now, I have so much going on that I am focusing on growing the game and being more of an ambassador. It can be tough because some people think I don't take golf seriously. I can say what I have done (winning the tournament last year) but they see only the bad stuff. They don't focus on the success – there's not much I can do about that.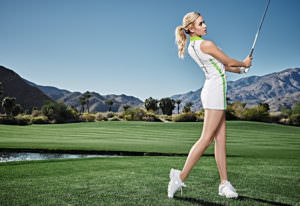 Have you changed your outlook or goals for golf?
Am I going to be a top-five player in the world? Probably not, but I have come to terms with it. I have accomplished a lot and I can do other things to help people and help the game and that's okay. That may be my path in life.
Before we go, what advice would you have for the 10-year-old girl playing golf?
I would say to enjoy the process. If you are not enjoying it, then take time off. You need to enjoy what you are doing!
Paige, thank you for taking the time! Enjoy Tahoe and good luck this year.
Thank you! It has been great talking with you!