If you just knew the basics about Wesley Hobbs Bauguess, you would understand she is an incredible woman.
Read her book, "God, Country, Golf," and you will see that Super Woman may be a more appropriate name.
The book is inspirational to say the least and a tremendous read whether you are a golfer or someone who is strong with faith. Actually – it's a must read for all.
The book is a love story wrapped in a testament to faith and the power that comes with belief.
Bauguess had led a wonderful life, playing on a golf scholarship at Appalachian State. It was there when she enrolled in the ROTC program, that the then Wesley Hobbs met Larry Bauguess.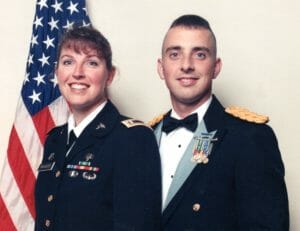 The two each had strong faith, as well as a love for their country. After getting married, both continued into the Army and as they advanced through the ranks, they also saw a lot of the world.
When it was time to have a family, Wesley retired from the Army to take care of the kids. Larry continued to rise through the ranks becoming an Airborne Ranger, while Wesley was vital in the development of Family Readiness Groups at military bases.
Blessed with two daughters, as well as the respect and admiration of family and friends, life indeed was grand.
Until May 14, 2007.
Larry was at what was supposed to be a peacekeeping meeting in Pakistan, when things went wrong. Rouge Pakistani army members opened fire on the Americans and Larry was killed while shielding others in his unit. Larry died a real American hero.
What was a perfect life, was now in shambles. It was a time where Wesley's faith was put into question.
"Of course, you question it," said Bauguess of her faith. "It was so hard not to have Larry here. I leaned on the knowledge that he is in Heaven. Larry brought me to Jesus and when Larry died, Jesus brought me through it."
And it was knowing how strong Larry's faith was that kept her going.
"Larry would have been disappointed in me if I didn't drive on in a manner that he would have wanted me to," said Wesley.
It was that drive and dedication that helped her battle through the trials and tribulations of getting the book published. Once the manuscript cleared and received the blessing of the Department of Defense – a mandatory requirement for anyone that served in the military – the book became a reality.
Publishing the book allowed for Bauguess to achieve her goals for writing the book.
"There were three goals," said Bauguess of turning what started out as a journal into a book. "My ultimate goal was to praise God – I leaned on him heavily and I knew he would get me through this. Second, I wanted to honor Larry and third, I wanted to honor the game of golf."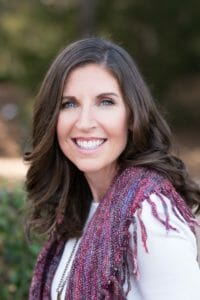 The result, is a wonderful, spiritual book that takes you through the highs and lows of her life. You are there when the notice came about Larry's death. You see how a lot of the work Wesley had done to help families in such a situation came full circle.
It was impossible not to be emotional through those parts of the book. You feel for Wesley and her daughters Ryann and Ellie as they try to put the pieces back together.
You get a big dose of inspiration as you read about how Bauguess used her faith, love of the United States military families, and golf as she got through the toughest time in her life.
It was a time her daughters – Ryann is now a senior and Ellie a sophomore – needed their mother to be strong after losing their father. Bauguess answered the bell and kept the family together.
"I am so blessed to have them," Bauguess said of her daughters.
As a family with a son and a son-in-law both serving in the Army, I asked Bauguess how to deal with the anxiety of loved ones potentially being in harms way. She was very comforting in her advice.
"Never hesitate to express your love," said Bauguess. "Larry and I always made sure to express our love. We had the reality that each time, could be the last time we had a chance to say it to each other. Know that God has a plan for all of us."
Bauguess now spends time coaching a high school golf team in North Carolina. It's cathartic for her as she has always embraced the game and wants to share her love of golf with others.
"I always tell the girls to play for the love of the game," said Bauguess who says she golfs about twice a month in tournaments. "Golf has opened so many doors for me in my life. Golf is a spiritual game for me."
Bauguess lists Pebble Beach and Mountain Aire in North Carolina as two of her favorite courses, and like the rest of us, names Augusta as one course she would like to play.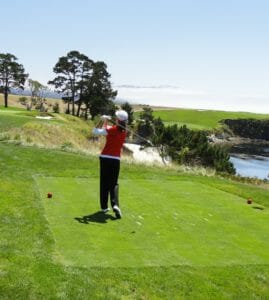 "I went to one round of The Masters and it was amazing to be there," said Bauguess.
She also spends much time speaking on behalf of Folds of Honor, a group that has been in existence since 2007.
Folds of Honor has a singular mission – to provide educational scholarships to spouses and children of America's fallen and disabled service members.
Their motto is simple and to the point: "Honor Their Sacrifice. Educate Their Legacy."
Bauguess also speaks and works with the Patriot Foundation. The Patriot Foundation is a group that provides support for the families of Airborne, Air Assault and Special Operations soldiers, and other selected warriors killed, wounded, and injured in the Global War on Terrorism.
"It's an honor to work with both groups," said Bauguess. "They both have similar missions."
If you are looking for a wonderful book to read – I put it right up there with The Shack for a spiritual read – then do yourself a favor and go to www.godcountrygolfbook.com.
By Dennis Miller