Kim was discovered at the age of 17 when she was still in high school in Buffalo, New York. She had planned on going to college to study Pharmacy when life took a 90-degree turn. She was in modeling school one night when a talent scout spotted her. John Casablancas from Elite Models in New York flew to Buffalo to sign Kim. She landed in New York in the summer of 1978 and had her first cover for Bazaar in just four days.
Kim ended up on over 500 covers worldwide for magazines such as Vogue, Harper's Bazaar and Cosmopolitan. She also set the record for Glamour magazine covers and appeared in six, Sports Illustrated Swimsuit editions. She helped define the term SuperModel.
Kim walked the runway for top designers in New York and Milan. She landed countless beauty and cosmetics advertisements in both print and television. She became the exclusive face of Revlon's Ultima II.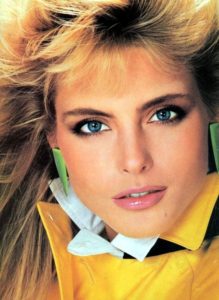 From modeling, Kim easily transitioned into broadcasting, spending three years as the Fashion Editor for Good Morning America. She has also hosted kid and family shows. Currently she has a show on A&E called Food Quest that she co-hosts with Mario Lopez. The show, which about the stories behind brands of food, airs Saturday's at 10 a.m.
ACES editor Dennis Miller recently had the chance to talk with Kim about golf, how she got into the game and what role it plays in her life now. Charming and gracious, it's easy to see how Kim remains as popular now as ever!
She is a regular on charity/celebrity golf events, traveling around the country to play in tournaments.
For more information on Kim, please go to www.kimalexis.com.
How did you get started playing golf?
I actually played with my parents when I was younger. My parents were members at a country club in Buffalo and I was a tennis player. When I turned 15 my mother got me lessons.
You took time away from the game during your modeling career. When did you get back into it again?
I started playing three years ago again. It's great being together with others out on the course and getting to know the people you are playing with. I try to play with the ones that are not all serious. I love listening to their stories about where they have been and what they have done in their lives. I try not to get stuck with super intense guys. I like playing with the mellow golfers.
What is your home course?
I don't have one right now as I just moved to Scottsdale. There are a lot of options of nice courses down here.
What is your favorite course you have played?
I got to play the TPC Sawgrass Stadium Course five days after the Players. Tom Coughlin has an event there and I was able to play. It used to be my home course when I lived down here so it was weird to visit it and be in a hotel.
What is one course you want to play that you haven't?
Pebble Beach sure comes to mind, but I will have to be patient to play there!
What is your dream foursome?
That's a good question. I have no idea. I guess it would be four powerful women. Grace Kelly is my idol so that would have to be one. Playing with women who run banks and other financial institutions would be fun. I will tell you, I usually play with guys, so I am standing there with my driver, tee and ball and when the men hit, I run to the ladies' tee. It would be really nice to just drive straight to the women's tee!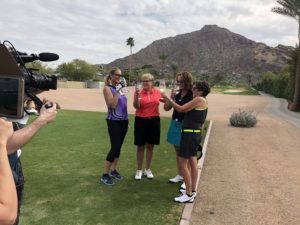 You can learn a lot about a person on the golf course.
You definitely see a different side of a person playing golf. I don't see many people in boardroom meetings, but I see a lot of people that give you their best face in a social situation, but they can be different playing golf. What's funny is the men view me one way, but after awhile because I am such a tomboy, by the end of the round I am one of the guys.
I read that you have run eight marathons. Is that true?
Yes, it is.  I was a swimmer and swam 5.5 miles a day. When I got into modeling they told me I needed to lose 15 pounds and I had no fat on me. I met Fred LeBow (Founder and Race Director of the New York Marathon) and I said I am going to run a marathon. My first time was 4 hours and 20 minutes and my best time was 3:52 in New York in 1992.
Thank you, Kim, for taking the time to talk!
It was my pleasure!