John O'Hurley is best known for his role of J. Peterman in Seinfeld, but he has had many other roles, including hosting Family Feud from 2006-2010 and a second- place finish in Dancing with the Stars in 2005, the first year for the show. O'Hurley is also known as an avid golfer. Both O'Hurley and his wife Lisa carry single digit handicaps and he proposed on the 7th green at Pebble Beach. When the chance came along to appear in a movie with golf as part of the film, it was only natural for O'Hurley to make the film.
Swing Away, opening in March of 2017, follows professional golfer 'Zoe Papadopoulos' (Shannon Elizabeth), who following a meltdown that leads to a suspension, travels to her grandparents' village in Greece to escape the harsh spotlight of the international sports world. Between baking bread and eating baklava, she meets and mentors a ten-year-old girl who is determined against all odds to become the next golf sensation. Along the way, 'Zoe' rediscovers her Greek heritage, her love of the game, and the hidden strength within herself as she inspires the townspeople in an epic showdown against a greedy American developer played by John O'Hurley.
 ACES editor Dennis Miller had a chance to speak with O'Hurley about the movie and his golf game in general.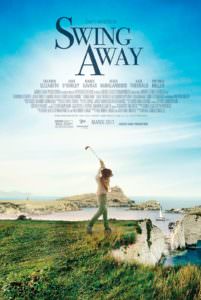 Tell me about the film?
Golf is really a back drop in the film. It is a heartfelt film. I saw it four times during screening and I welled up every time. I have done some TV, but this was the first time where golf was part of a movie for me. Honestly, it was more about getting the scene right more than being about golf.
How did you get started in golf?
I grew up in New England and everyone back then seemed to have country club memberships. I took some lessons and then used it as a way spend four hours with my Dad. He's 88 now and still plays. He uses golf as way to spend four hours with me.
What is your home course?
We are joining Sherwood (Southern California) and we have a membership up in Sonoma County at Mayacama. I have a charity tournament on the first Monday and Tuesday up there – the Schulz Celebrity Golf Classic in honor of Peanuts creator Charles Schulz.
Mayacama? I heard the members there play for wine more often than money.
Of yeah, there are a lot of bottles switching hands.
Your wife is a golfer as well? How often do get out to play?
Golf is a luxury for me. It's tough to justify taking four hours out of the day to play, but I am able to do it enough for my game to stay in shape. My wife has the same handicap as I do (both play to a 5), but if you talk to anyone that knows us, they will tell you she is better than me. Lisa was one of the first Golf Channel employees and Arnold (Palmer) said she had one of the nicest swings for an amateur that he had ever seen. That's pretty amazing right there.
Is there a course you have not played yet that you want to?
Pine Valley. I have several friends that are members there and they are always telling me it's a must play. Also, we have not been to Bandon Dunes yet.
What's the best part of playing golf?
I love playing in the late afternoons when the shadows are long. It's the best place to be – the best topography. I have met a lot of great people on the golf course. You can really judge their character by how they play. I also just really love the competition and that you can keep playing longer and longer in life.
What would be your dream foursome, living or dead?
I think I would like to go back and play in the early days of golf, like with Old Tom Morris. Those guys played with clubs that looked like gardening tools. I'd like to play with them and see what it was like. I mean you look at Al Geiberger, he shot a 59 (in 1977) with steel shafts. It's a different game these days.
What's the best round you have shot?
Byron Scott (the former Los Angeles Lakers star) had a tournament at a course in Orange County and I shot a 69.
Best celebrity golfer you have ever played with?
Oliver Hudson is pretty good. Ten years ago, he couldn't break 100 and now he is very good. Jack Wagner is excellent as well.