Fine dining options abound in many of the Coachella Valley cities, which is no surprise given the affluence of many of the people who come to the warm desert from colder climes.
It was through a round of golf with one of those winter locals that we discovered Alberto's Ristorante on Highway 111 in Rancho Mirage. To say the exterior appearance is understated is to exaggerate. The best way to find it is look for the elephant on the Rancho Pink Elephant car wash. It's located a block north with the entrance off the parking lot. (For ACES features on other fine restaurants, please see VUE Bar and Grille  at Indian Wells Resort and Arnold Palmer's Restaurant in La Quinta.)
Once inside, it's a traditional fine Italian restaurant with oak-paneled walls and a history to match. Alberto's in the desert was a second location for Alberto Pagliari, whose namesake restaurant opened in 1969 on Melrose Ave. in Beverly Hills. The Hollywood customers urged Alberto Pagliari to open the second restaurant so they could enjoy his cuisine while in the desert. Alberto learned his craft from his uncle, Ernest Vignati. Their restaurants date back 70 years.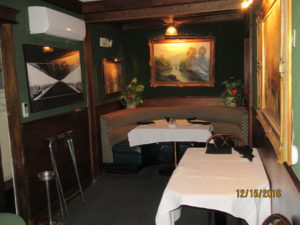 Clients over the years have included celebrities such as Frank Sinatra and Dinah Shore, who had her private table in the six-seat bar and, in more recent times, professional football coaches including former Oakland Raiders' head coach, Tom Flores and former USC assistant coach Marv Gould. Publishing czar Walter Annenberg also was a frequent guest.
Current proprietor, Alberto's son Robert, splits his time between the Los Angeles area and the desert as he works his craft as a bass guitarist. He prides himself on maintaining the family tradition of fine dining, offering traditional Northern Italian dishes. The Hollywood location closed when his dad retired, but the Rancho Mirage location flourishes, particularly during the prime season, and is in its 36th season.
On a March Thursday night, the place was packed with no tables available until later. We arrived for a 7:30 reservation and, when we departed 90 minutes later, the place was virtually empty. The restaurant seats 80, while the tiny bar, tucked back near in the kitchen, has space for 10.
The signature dishes are Chicken Pappagallo, the veal Osso Buco, Veal Rappolo. All of the pastas (cannelloni, gnocchi, manicotti and ravioli) are homemade. The menu has 10 veal choices plus four chicken, three scampi and a full range of pastas including a variety of sauces (Marinara, meat, pesto, Aglio Lilio, Arrabbiate, Alfredo, Pomodoro and Basilico). Robert's father, Alberto, created Chicken Pappagallo for Mo of the Three Stooges.
We decided to let our server, 32-year employee Den Kossovo, pick a sampling of the best of the menu when we visited in November. That included the homemade veal-stuffed caneloni and manicotti stuffed with ricotta, parmesan and a mixture of three sauces; the Calamari Fritti with a light, delicious marinara sauce; the signature Chicken Alberto (stir fried with peppers, mushrooms, onions and garlic) and Veal Rapallo (with spinach and cheese) and a delightful shrimp prepared with garlic, capers, lemon and white wine (not on the menu, but ask if interested).
All were perfectly prepared with light sauces that complemented the food nicely as did a 2010 Raymond Napa Valley Cabernet.
Notably, in an industry that is known for people moving around, Robert and Alberto have attracted and retain a loyal staff. Our server, Den, has been there 32 years. He showed us a picture of a 19-foot tower of stones with an American flag flying on top that he constructed in Sky Valley as a memorial to President Woodrow Wilson who insisted that Albania be an independent country instead of part of Turkey when the World War I allies dissolved the Ottoman Empire.
One of Robert's favorite stories concerns the night that Frank Sinatra showed up without a reservation and wanted to be seated immediately. His long-time hostess, Ann Leon Ross, made him wait his turn just like everyone else. Frank appreciated her attitude and returned many times.  Ann started in the Los Angeles restaurant and then transitioned to Rancho Mirage where she served as the hostess for more than 25 years.
Perhaps part of the attraction for employees is the work schedule—it's Wednesday through Sunday in the fall and late spring; it's Wednesday through Monday in prime season; and the restaurant is closed from June to September when the snowbirds have fled home. Robert explained that they had tried to stay open in the summer, but it just never penciled economically.
Fortunately, the loyal winter-time clientele make the other eight months pencil nicely and allow Robert continue the family tradition.
During our November meal, there were just a few customers dining, including one gentleman who chatted with the folks at the next table. He described Alberto's as "my cafeteria" because he dined there so frequently. The folks he was chatting with were couples from San Ramon and Danville, one of whom had just purchased a home near Alberto's.
They were delighted with their meal and at having discovered a place where they will return.
Reservations during prime season are necessary, particularly if you want to dine during the prime early hours of 5-7 p.m. For lovers of Italian food, Alberto's should be on your list.
By Tim Hunt