There are many good wineries in the Carmel-by-the-Sea area, so when trying to decide which tasting rooms to visit, finding the combination of great wine and a fun experience is sure fire combination.
Galante Vineyards is such a winery and is a must-visit the next time for are in Carmel.
When you find your way into the Galante tasting room, you feel like you are going into someone's living room as opposed to your basic tasting room.
"We want to make people feel welcome," said owner Jack Galante. "It's easy to portray who you really are in your tasting room. Our staff makes people feel welcome. I think the best compliment they get regularly is when customers think they are part of the family."
I have been to tasting rooms throughout California's wine regions and can say without hesitation that Galante is as intimate and relaxing a tasting room where I had the pleasure to taste.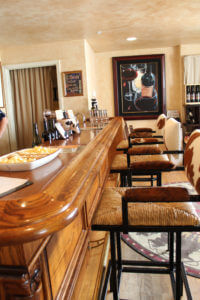 The best way to describe the tasting experience at Galante is to say it's tough to leave. Sure, there are plenty of places to visit, but when you're enjoying yourself and the wine is that good, why leave!
The Galante Family has a long history in the Monterey area. Owner Jack Galante's great grandfather, J.F. Devendorf, was the founder of the town of Carmel. He later built the Pine Inn and the prestigious Highlands Inn.
In 1969, Jack's parents purchased a 700-acre cattle ranch in rustic Carmel Valley. While still maintaining a working cattle ranch, the Galantes, in 1983, began growing premium grapes on their property, specializing in Cabernet Sauvignon. In 1994, Jack Galante decided to build a winery and use some of his grapes to produce ultra-premium estate bottled wines.
Jack and his wife Dawn have both Galante and Dawn's Dream – that opened five years ago. Look for a story on Dawn's Dream in the next month here. To Jack, having a winery – or two – makes perfect sense.
"I just drank heavily in college," said Galante with a laugh as to why he started a winery. "Actually, it was a process of things. It was a natural field for me to go into."
As was the case with his family founding Carmel, Galante was the pace setter for wines in Carmel. They were the first tasting room to open in Carmel and with it, they brought a different perspective of what should make up a tasting room.
Instead of being one of the grandiose facilities, Galante and his team opted for small and personal.
"The whole thing to me is bring in the people you want to get to know," said Galante. "To me, villas and chateaus are not real places for people to taste wine."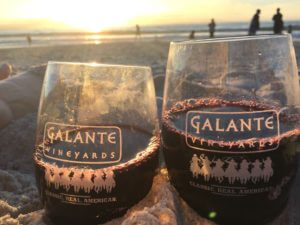 With so much going on the in the greater Monterey Peninsula, the growth, in terms of numbers and quality of wine in the area is often lost.
Sometimes it takes extenuating circumstances to get the word out.
"When the wild fires hit Napa and Sonoma, there were a lot of people that were re-routed down here," said Galante. "Many of them had no idea there were so many wineries in the area. They were amazed, and I think it opened a lot of eyes."
As the region has grown in the wine world, Galante has stayed true to their original game plan. Stay affordable with your tasting fees, staying confident that once you get them in the door, the charm of the experience and the quality of wine will take over.
"We don't even cover our costs with our tasting fees, but we have a different philosophy down here," explained Galante. "We have an 85 percent buy after tasting. People really enjoy the product and we love the experience of having them here."
And the wine is good.
My favorite was the Blackjack Pasture, a strong Cabernet Sauvignon, but there is plenty of quality from which to choose.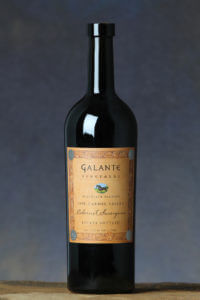 The Kickass is a fun blend, with the 2013 made up of 70% Malbec, 20% Petite Sirah, 10% Cabernet Sauvignon, and the Centennial Cabernet Sauvignon, made in honor of the 100-year-anniverserary of Carmel is another strong bottle of wine.
Galante has also produced some special bottles of wines for celebrities. His most recent was for John Daly.
Having been in the tasting room on a couple of occasions, it's clear the staff has fun with the customers and it's an attitude that starts from the top. Jack Galante has a passion for both producing the wine and making it fun for the customers.
"For me personally, there are two best things to being in the business," said Galante. "One – the creation of the product from the ground all the way through to putting it in the bottle. I never get bored with the process. Second, on the social side it's about creating a product that people don't need, but they enjoy. Ninety-nine percent of the time we are dealing with happy people. There are a lot of choices for people to visit in the wine industry."
It's a belief that permeates throughout the wineries in the area.
"In Carmel, we all work 100 percent together," said Galante. "There is none of the "I will be better than you.' We are not vying for shelf space and we go out of the way to refer other wineries."
For more information, please go to www.galantevineyards.com
By Dennis Miller