You will not find one of Carmel's hottest boutique restaurants in a street address directory—it doesn't have a street address. What it does have is a growing reputation for locally sourced food creatively prepared.
La Balena Cucina Toscana is located at the back of a courtyard on Junipero between Fifth and Sixth streets in downtown Carmel-by-the-sea, a couple of blocks north of Ocean Avenue.
It is tiny—seating for just 26 inside plus two outdoor areas to bring the total seats to around 50 so reservations are a must—particularly on busy weekends. During the AT&T National Pro-Am, it was sold out three weeks before the tournament.
The popularity speaks to the quality of the fresh rustic Italian food and its tight focus on locally sourced ingredients. That effort is led by Chef Brad Briske for restaurant owners Anna and Emanuele Bartolini who also work in the restaurant daily. Briske has a network of 10 local suppliers who provide everything from meat to produce to coffee and cookies.
The menu changes daily so what you find on the web site is an example. The menu is somewhat limited because there are only two stations in the kitchen to prepare meals.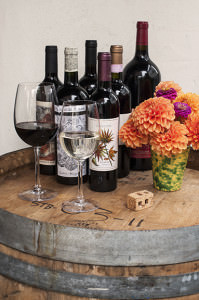 The Bartolini's, who met in Italy, have an extensive wine list. In fact, wine bottles occupy most horizontal spaces in the small dining area (one table) between the kitchen and the restrooms.
The menu when we dined there on a rainy February evening (the only decent February storm in Northern California in 2015), included one soup, three salads, seven starters, six pasta dishes (all freshly made) and five entrees. Entrees included marinated bavette steak, duck legs with roasted Brussel sprouts, whole roasted branzino (fish) with blood orange, fennel and black olives; Osso Buco and the half of a Fog Line Farm Arborio crusted chicken (only available Tuesdays and Sundays).
The fried chicken is limited because of the capacity of the fryer in the kitchen as well as the limited allocation of the Fog Line Farm organic chickens.
We started with a tray of the four Bruschette of the day: burrata with sea salt and olio nuovo; fennel pollen pork sausage and stracchino, cavolo nero and wild boar salumi and duck liver toscano. The pork sausage was my favorite. They were paired with Mannicor Riserva della Contessa Alto Adige 2013, a crisp white wine.
We also tried Lingua, crispy fried beef tongue with horseradish aioli, watercress, onion and capers. Our server matched the tongue with an Italian red wine, Montesalario Montecucco Rosso 2011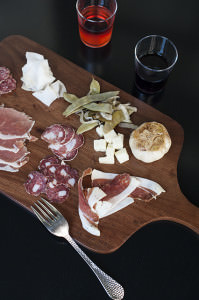 The salad course was created from little gems (small heads of lettuce) with radish and gorgonzola vinaigrette. Delightful. Another choice was arugula with blood orange (citrus season), fennel, almonds, lemon and olive oil.
We tried two pasta courses: Lasagnette rustic beef and pork Bolognese with ricotta and braised tomato; and Pappardelle alla Erbe with duck leg sugo. On a return visit, we would certainly choose the Lasagnette again. The Italian robust red wine, Tommaso & Roberto Cavalli Tenuta degli Dei Le Redini Toscana IGT 2010, complemented the pastas dishes quite well.
The sides were polenta with parmesan and truffle oil and broccolini with pine nets, currant and chili.
Chatting during the meal with a local couple who dined there regularly and they could not say enough good things about the restaurant and the menu. If you decide to go, be sure to make a reservation.
By Tim Hunt, published March 2015, updated March 2016