Following the third race Thursday at the Sonoma County Fair in Santa Rosa on opening day, horse racing fans could likely get their first look of a new ownership group that is planning to take horse racing by storm.
Should Mashhad Flats pull out the win in the race set for a 2:45 p.m. post, the winners circle figures to be crowded as Mean Girls Racing Stables will pick up their first winner in their hometown county fair.
Alissa and Hallie Tipton are the two partners in Mean Girls Racing Stables. Their father John Tipton is a successful horse owner, and earlier this year, the two girls decided it was time to strike out on their own in the industry.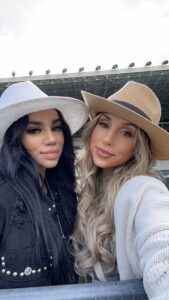 "My dad was always in the industry, bringing us around the track, and as we got older, we wanted to be in it," said Alissa.
The idea came to fruition during Hallie's 21st birthday in January in the Turf Club at Golden Gate Fields.
"We had a Mean Girls theme birthday party based on our favorite movie," explained Alissa.
"We saw everyone having a great time," said Hallie of the birthday party. "And we came up with this idea together."
And Mean Girls Racing Stables was born.
Make no mistake – this is not a gimmick. These are two smart and driven young ladies that are in this for all the right reasons. It's the type of shot in the arm horse racing needs, especially in Northern California where horse racing is tenuous at best.
The Mean Girls theme does get attention, which is what the two were hoping for.
"The name strikes a conversation," said Alissa. "For us, this about female empowerment. Bringing girls together and becoming successful."
They have started conversations for sure. They have gotten calls from across the United States. Some from trainers offering to train their horses, others from women that want to know how they can get involved.
The ladies knew they would make an impact but not this quickly.
"The most surprising thing to me is the attention and attraction we have gotten already," said Hallie. "We have jockeys that come up to us and ask to ride our horses. Everyone has been great."
While Mean Girls Racing Stables continues to gather steam, John's racing operations have taken a back seat.
"Absolutely – they are front and center," said Tipton of his daughters. "I am helping them pick their horses and teaching them about horse racing every day."
The two have seven horses currently and while they are learning about the ins and outs of horse racing on the fly, one thing they have mastered – the care of their horses.
"We treat our horses better than people get treated," said Hallie. "We bring our horses snacks and make sure they have everything they need."
They have found some success already, winning twice, and finishing second once in five starts. The latest win came in a $20,000 claiming race at Del Mar at 13-1 with Windribbon. The horse has stayed at Del Mar and will run Friday, August 11.
Right now they are getting to defend their home turf, starting with opening day opening day at Santa Rosa, their home town.
"This is definitely important to us," said Alissa of the Sonoma County Fair. "We have seven horses and hope to be able to run them all."
"I am super excited," said Hallie. "We have been coming here for years but now we have our own horses. We will definitely be out at the track."
While Mean Girls Racing Stables has been getting noticed – they were invited to the Turf Club at Del Mar – they will be introducing themselves to the racing world on August 12 at the Santa Rosa races.
Shortly after the Fair ends on August 13, the Mean Girls Racing Stables website will be launched.
"The website is almost done," said Alissa. "On the 12th there will be a lot of us out there wearing our merchandise to give a sneak peak of what we have."
"We just want everything to be perfect when we launch the website," added Hallie.
With horse racing in a state of flux after Golden Gate Fields announced they are closing December 19 it is unclear if Mean Girls will have horses in Northern California moving forward.
"We are hopeful that Northern California racing is saved," said John. "But if we have to, we can have a small stable down south."
Where do the two see Mean Girls in five years?
"Hopefully with a whole bunch of girls involved," said Hallie.
"We want to continue our growth," added Alissa.
Dare to dream about one day having a horse in say, the Kentucky Derby.
"One hundred percent," said Alissa. "That's the ultimate goal."
By Dennis Miller