Taking a drive along Highway 116 from Rohnert Park up through Sebastopol and on to Guerneville and you will come across more than a few wineries.
Which ones to stop at and which ones to bypass is always a tough call. Let me help – make Merry Edwards one of your stops.
As you make your way to the tasting room, enjoy the neatly landscaped courtyard with the vineyards right beyond the wall.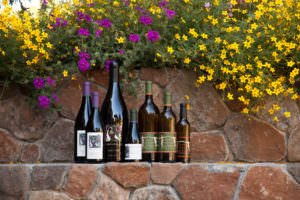 A modern and beautiful tasting experience awaits! There are two types of tasting experiences at Merry Edwards.
We were fortunate to have the in-depth tasting that lasted close to an hour. You get to taste the Chardonnay, four, single-vineyard Pinot Noirs and finish with the Sauvignon Blanc. The 2007 Sauvignon Blanc was the highest rated in the history of Wine Spectator with a score of 96.
The in-depth tasting takes place in a private room and is a seated tasting. Up to eight people can be accommodated and you should call the winery at least 24 hours in advance to make a reservation.
For those just dropping in, there is a walk-in tasting available, lasting 15-25 minutes. The tasting is presented is a small-session educational format. Groups of eight or more should call 24 hours in advance and groups of 12 or more are not able to be accommodated.
The 2013 Olivet Lane Vineyard Chardonnay comes from one of the oldest vineyards in the Russian River area. The wine is barrel fermented for nine months in French Oak. It was a quite pleasing wine, perfect for a hot day.
Of the four Pinot Noirs we tasted, my favorite was the 2014 Olivet Lane Vineyard Pinot. As is the case with the Chardonnay, the grapes come from one of the older vineyards in the area and are scheduled to be re-planted in the future.
Finally, while the 2007 Sauvignon Blanc was the highest rated, the 2015 was a very solid wine as well. Fermented in a used barrel it was a highly enjoyable wine.
The backstory of the winery is an interesting one and features one of the pioneers of women winemakers.
Involved in the wine industry for 43 years now, Edwards started by making beer in the dorms while she was at Cal-Berkeley, then was one of the first women to go through the enology program at U.C. Davis.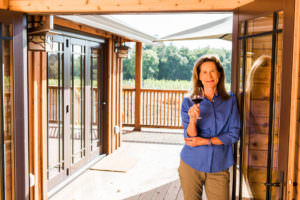 For years Edwards served as a consultant before her and husband Ken began construction of their own winery in 2006.  The 2007 harvest was entirely produced on site and the winery formally opened in 2008.
In 2013, Edwards 40th as a winemaker, she was inducted into the Culinary Institute of America's Vintners Hall of Fame, as well as winning the James Beard Award for Best Wine, Beer of Sprits Professional in the United States. She is one of only three women to win the coveted award.
Initially, Edwards produced only Pinot Noir, but expanded when asked to make some other wines for dinner parties.  Production is now at 20-25,000 cases, of which half are Sauvignon Blanc.
There is currently no wine club and wines are sold via a mailing list (60 percent of all sales is through the mailing list) and there is no auto-ship. Merry Edwards is sold in restaurants throughout California and is distributed in most states.
It is tough to figure out what wineries to choose from when in the Russian River area, but the decision is an easy one when picking Merry Edwards. I highly recommend the in-depth tasting. It's an education and enjoyable experience.
By Dennis Miller