When you think of the Northern California town of Occidental, just think of the word real.
Real as in real people, real food, real drink, real relaxing, real peaceful and real special.
You will never hear opulent describe the quaint little town of 1,500 located between Santa Rosa and Bodega Bay, but you will hear people say thank you after they head back home from their getaway.
The entire Village of Occidental is a designated Historic Landmark by the County of Sonoma. Steeped in history, the Village lies tucked into a small valley surrounded by large redwood tree studded hills.
The Village was founded in 1876 and was the last stop on the North Pacific Coast Railroad connecting Cazadero and Sausalito. The village not only evolved into a wonderful place to live, but also an enormously desirable place to vacation. Since that time Occidental has retained its essential character, with many of the original buildings still lining Main Street to this day.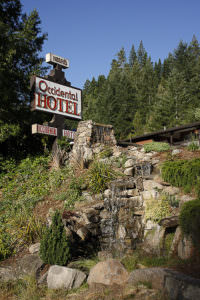 I stayed at the Occidental Hotel for the better part of three weeks while working at the Sonoma County Fair as one of their co-host for the Daily Handicapping Seminar for their horse racing meet.
It was about a 25-minute drive from the Fairgrounds, but it was worth it. The hotel is more Best Western than Hyatt Regency, but relaxing and comfortable doesn't begin to do the property justice. When I am back in the area, this will be my spot to stay.
The 28-room hotel sits up against a redwood forested hillside and leaves you with a feeling of being part of the wonderful terrain that frames the town. It is also elevated above the level of the town so you can overlook everything.
The rooms were more than adequate, with a comfortable bed, nice TV, microwave and refrigerator. There was also a well maintained pool and deck area with plenty of chairs and recliners.
It always seemed filled Thursday-Sunday of each week, so I would highly recommend reservations.
One major selling point of the town is the ability to easily walk to the restaurants or watering holes. Despite the main drag of the city being maybe a driver and wedge long, there are at least four wonderful places to eat.
I have been going to Negri's since I was young and dragged along with my parents when we were playing soccer in either Santa Rosa or Rohnert Park. Now I drag others and they are glad I did.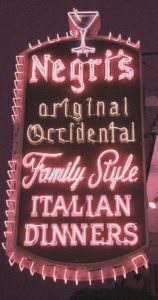 Joe and Theresa Negri moved to Occidental from Santa Rosa in 1938 and purchased the site of the restaurant, which in turn opened in 1943. Theresa was the cook, Joe ran the bar and the roots were laid for the foundation of friendliness customers experience today.
Joe and Theresa have passed on, but you still have Evelyn Negri (a daughter), her daughter Sandy and Sandy's daughters Amanda and Tori carrying on the legacy. Sandy might be the most ardent San Francisco Giants fan I have seen. Count on the game being on the big screens in the bar during baseball season.
Featuring family-style Italian dinners, the food is made in house, often from scratch and offers diners with a spot in the dining room or at Joe's Bar, which is attached to the dining room.
The menu choices are plentiful, but I will recommend the Nonna's Ravioli (get half pesto and half meat sauce, a recommendation from one of the bartenders) or go off the charts for their Fried Chicken. You really won't go wrong with just about anything on the menu.
While Negri's is my go-to place to eat and relax, I have also enjoyed the Union Hotel, another family-style Italian dining experience. You can sit inside or out and you will not leave hungry. As a tip, I recommend asking your server which dishes are easy to share. You will thank me later.
For breakfast, Howard's Station Café is right across the two-lane road from the hotel. This wonderful breakfast stop only takes cash, so be sure to have some with you as this is a must eat stop!
Barley and Hops is one of the newer places in town and features your typical pub grub with an assortment of excellent craft beers.
One other must visit is Wild Flour Bread in Freestone (some call it the Freestone Bakery), just about five minutes from Occidental.
Open Friday-to-Monday, Wild Flour features brick-oven baked sourdough breads, scones, biscotti and coffee drinks. By 8 a.m. they traditionally have four breads available, as well as 1-2 of their types of scones. The Dragon (Jalapeno and garlic) bread was crazy good, as were the strawberry, apricot and peach scones. Actually everything was very good!
By 10:30 a.m., the different breads are flowing, as they make up to 900 loaves a day, all baked and sold only at the bakery.
Wild Flour takes cash or checks only, but not to worry, they actually take an I.O.U.! I had no cash on one visit, so they gave me a piece of paper with the total and their address and I mailed them a check. They didn't take any information from me, but that is kind of the way the entire area is – trusting and laid back.
Of course, given the location of Occidental, there are a variety of other things to do. There is an abundance of wineries within a short drive and as mentioned before, you are 20 minutes from Bodega Bay and the coast.
For the adventurous, I suggest taking Coleman Valley Rd. out of the middle of the town to get out to the coast. You are up and down what seem like small mountains and beautiful valley areas on a road that is barely big enough for one car, but the rewards are aplenty. As you approach the coast, the views of the Pacific Ocean are stunning and you can see for miles.
The road is used each year in the Tour of California bike race and is well worth the time it takes to traverse the terrain. The road empties out onto Highway 1 just north of Bodega.
When the summer heat gets too much, get on the road for Occidental. You will come back relaxed and ready to tackle the grind of life when you return!
By Dennis Miller