I must admit, when I was approached to have the shaft on my putter re-shafted, I was skeptical. I have always been solid with my putting game, so I thought what good could it really do for me?
I finally relented and had the Stability shaft from Breakthrough Golf Technology (BGT) installed on my putter and I am ever happy I did!
Barney Adams of Tight Lies fame is the owner and founder of BGT and he returned to the game of golf with the new shaft. Adams and his team determined that putter heads have gotten dramatically heavier over the years, but the shafts remained the same.
The result was that the old shafts are neither stable or strong enough to keep the newer, advance putter heads from twisting and turning during the stroke. They also determined that the strongest part of the shaft is right underneath the hands where it does the least good and the weakest part is near the head.
Since the golfer uses his putter almost twice as much as any other club, then something should change.
And change it did with the Stability shaft. Bearing a scientifically advanced multi‐material design and new geometries never used in putter shaft design, this product has a great look, solid feel and a traditional steel putter shaft's weight.
"At 37 inches long, 125 grams and bearing an ultra-stiff flex, it's designed to improve any golfer's game," says Adams in a press release. "It delivers the face squarer at impact, for improved accuracy and solid feel. Plus, it has a lower launch for a predictable roll and better distance control. I've never seen a product that can improve someone's putting so quickly. My team found the weakest point of a steel putter shaft. They used computer analysis to place a flex-resistant insert at this weak point on the Stability design. It not only greatly increases stiffness but also adds the benefit of improved feel. Golfers will feel and see the difference from their first stroke with it."
This is exactly true. The first few putts I rolled with the new shaft felt instantly better. A friend of mine that played on the PGA Tour came over, tried the putter and liked it right away as well.
One drill I use on the putting green is to take four balls and putt from distance, always with the goal of nothing worse than a two-putt as I work my way around the putting green. No three-jacks means move on to the next hole – miss one two-putt and you go back to the start.
First time through I went through all nine holes without anything more than a two-putt. The feel and the balance are great and I instantly felt better about my already solid putting game.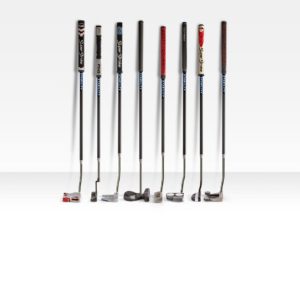 The Stability shaft is the fastest growing putter shaft on all tours and will work on almost all existing putters.
Four components of the Stability shaft work in concert, to greatly improve putting performance. This Advanced Materials Integration consists of:
A 7075-aluminum connector that helps to reinforce. This versatility allows attachment to any tip diameter of any putt, regardless of bend profile.
Stainless steel tips with extremely consistent wall thickness are coated with a smoke PVD finish to add further protection from corrosion and rusting.
Eight layers of high modulus carbon fiber that are specifically layered, wrapped and widened, with a no-taper design to greatly reduce torque.
A lightweight, 22-gram aluminum insert that was developed and precisely located to reinforce flexural rigidity.
The Stability shaft retails for $199.
Many won't give a thought to the shaft of their putter, but trust me, if you want to feel better on the green, give some serious thought the Stability shaft. You won't regret it.
For more information, please go to http://www.breakthroughgolftech.com.
By Dennis Miller