Before you know it, May will be here in full bloom.
We're not necessarily talking flowers.  We're talking Military Appreciation Month.
What does this have to do with golf?  We'll, friends, let's turn to On Course Foundation that's recognized among the greatest golf-military non-profits on the planet.
The skinny:  On Course Foundation conducts programs in 15 markets across America which teach wounded, injured and sick veterans golf playing skills and golf business skills for careers in the $84B annual golf industry.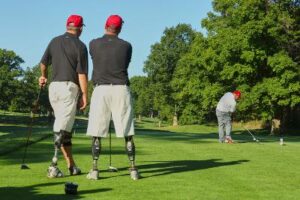 The organization subsequently places its male and female "members" in jobs with Century Golf, Dormie Network, Golf Pride, Invited, Landscapes Unlimited, Marriott Golf, TaylorMade Golf, Topgolf Callaway Brands, TPC Network and Troon.  Marketing, sales, merchandising, food and beverage, product manufacturing, course operations and other positions comprise the range of work experiences with employment partners in 45 states.
More than 2,000 wounded veterans have benefitted from On Course Foundation in the U.S. and Europe.
Some lives On Course Foundation has vastly improved, if not saved:
Nick Kimmel – A golfer as a kid, he miraculously survived an explosion in Afghanistan, but lost both legs above the left knee and left arm above the elbow. The physical and mental pain was excruciating, as was the notion of never playing golf again.  On Course Foundation revived his spirit, striving as a triple amputee to make the Simpson Cup team.  A low handicapper, Nick is a motivational speaker, imparting golf's virtues to military and corporate communities.
Jason Leap – Serving in the U.S. Air Force for 10 years in Kuwait, Turkey, Korea, Uzbekistan, Afghanistan and Pakistan, an emergency landing gone awry led to neck and spinal fusion. Assimilation back into society was beyond arduous, leading to drug and alcohol dependence, homelessness and more.  On Course Foundation was central to his rehab.  Leap is now security manager at Callaway's massive distribution center in Texas.
Steve Ogletree – Stepping over dead bodies worldwide, notably in Somalia where law and order were non-existent, he dodged daily bombings while installing C-4 and detonators to blow up enemy buildings. Stricken with PTSD, Steve faced anxiety, agitation and thoughts of hurting himself.  A friend introduced him to On Course Foundation as a reclamation means despite never picking up a golf club.  That was the ultimate penicillin, mitigating flashbacks.
Ty Campbell – Thirteen years in the Coast Guard in medical and weapons capacities, he identified terrorist activities at domestic and international ports. On a special mission in the Arabian Sea, Ty blew out his knee jumping from a helicopter, his left leg hanging by a thread.  Deep anger, addiction to Oxycodone and Percocet and couch-potato syndrome ensued. Then On Course Foundation came along.  Ty found enjoyment in golf, and worked at famous country clubs, rising to Operations Manager and golf instructor at TPC Harding Park in San Francisco.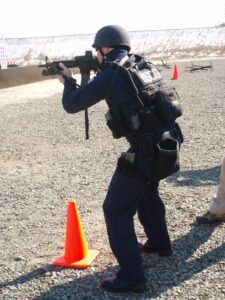 Craig Richardson – While in the air force in Afghanistan, a landmine threw him 25 feet in the air, causing breaks to his right knee, amputation of his right leg, left knee injuries and a shattered humerus on his shoulder. Recalls of the incident were extremely hard to deal with.  Craig learned about On Course Foundation, his first exposure to golf.  Smitten with the sport and business of golf, he became a clubfitter for Callaway, tournament scorer for VPAR and is now full-time at Baltusrol Golf Club.
Without corporate support from the likes of Charles Schwab, Apollo Global Management, Barclays, CSX, J.P. Morgan, KPMG and others, these lives could very well have spiraled the greatest depths of despair.
Here's the challenge to Bay Area businesses: contact On Course Foundation USA Executive Director John Dodds at [email protected].  Give back to those who protect our freedoms through the sport of golf we love.
By Rich Katz