Honestly when it comes to describing Plucked, a newer restaurant featuring chicken-based meals, you need go no further than their slogan "Chicken and Beer," to entice people to come on down.
Brought to you by the group that owns Sauced BBQ and Spirits, Plucked has locations in both Pleasanton and San Ramon.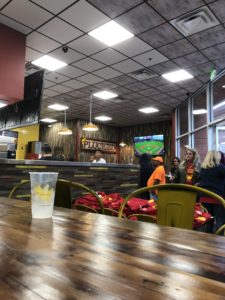 There is plenty chicken and beer – both high-quality – with one thing that stuck out in my mind on the multiple occasions I have visited the restaurant is the vibe.
From the time you walk in the front door, it's every bit the ambiance you'd expect from a place that promotes itself as "chicken and beer." Not uptight or stuffy in any capacity, Plucked is the type of place you go when you want a fun meal.
That works for me – and evidently a lot of other people as well – as there is always a good crowd, enjoying not just the food, but the atmosphere. There are big-screen TV's with sports playing and solid musical offerings.
But while Plucked is a chill and relaxing place to have a great meal, make no mistake about it – the food is the star of the show.
Having tried most of the meals – not disappointed with any of them – the king of the menu falls with the Chicken and Waffle Sandwich.
Of course, it's a chicken sandwich with the waffles serving as the bread, but it's everything that comes with it that puts it over the top. There is a maple hot sauce reduction, an over-easy egg, applewood smoked bacon, sharp cheddar, with everything topped with brown sugar cinnamon butter.
Have it for lunch and there's no need for dinner. If you do the dinner route, make sure you eat early. It's heavy, but well worth it!
The Rooster has sharp cheddar, applewood bacon, a cage-free over easy egg and house pepper jelly. I also am a fan of the Tweety Bird that has honey mustard, house pickles and a jalapeno sweet heat slaw.
The Sticky Chicken offers an Asian style meal featuring Asian sticky sauce along with the jalapeno slaw, pickled jalapenos, spicy mayo and toasted sesame seeds.
Looking for something else other than a sandwich? Not a problem.
There plenty of options for wings, featuring eight different sauces, ranging from docile BBQ Honey or Lemon Pepper, up to the very hot and tasty Habanero Apricot.
There are also different options of fries, as well as chicken tacos, strips and the Valley Chick – a loaded chicken salad.
Finally, the Plucked web site offers specials and rotating food items
The beer is self-service with a pre-paid card and offers plenty of options. It's a fun touch to an already great experience.
There are plenty of dining options in the area but Plucked is one you want to make sure you hit and hit often, if you like chicken and beer – it's that good.
For more information, check out the Plucked web site at www.pluckedchickenandbeer.com.
By Dennis Miller