Bianchi Winery in Paso Robles is operated by the second and third generations of the Bianchi family.
The roots date to an operation in Kerman near Bakersfield in the southern San Joaquin Valley. The family bought the premium growing land in Paso Robles and built a showcase tasting room as well as a major production facility. Today, Bianchi makes its reasonably priced premium wine (between 12,000 to 18,000 cases per year), a second label and maintains a huge "house wine" business for the restaurant trade.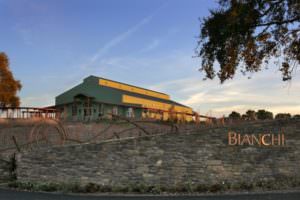 Leading the winemaking is Pleasanton native Tom Lane. Tom's winemaking roots date to his childhood when he and his brother, Don, helped home winemakers. He said that he could foresee a career in winemaking back then as a kid. After a 10-year journey through higher education, Tom started as winemaker at Navarro in the Anderson Valley of Mendocino County in 1985 and became known for his skills with making dry Gewurtztraminer and Riesling.
He then moved back to the Livermore Valley and took over winemaking duties at Concannon Vineyard in 1992. He eventually became general manager as well as winemaker before he headed south to Bianchi in 2004.
As he did at Concannon, Tom makes an extraordinary number of varietals. His goal is simple—a balanced wine that reflects the grapes. In addition to the 29 acres on the estate, he purchases grapes from throughout the broader Paso Robles area as well as from the Santa Maria area and Monterey County. That allows him to make a wonderful Pinot Noir as well as the crisp white wines in addition to the reds you would expect from the Paso area.

Tom's Livermore Valley experience comes in handy in Paso Robles which sits in a coastal valley just about 30 miles from the ocean. That means dramatic temperature swings, 40 to 50 degree differences between the daytime high and the nighttime low.  The Mediterranean climate is ideal for grapes as well as for many other trees, vines and vegetables.
After tasting through a variety of wines, we took home a 2007 late harvest Sauvignon Blanc that will be enjoyed with some fresh stone fruit. We also favored the Santa Maria Pinot Noir as well as the 2012 Joe's Rows Cabernet Sauvignon, a limited bottling made from specially farmed grapes by one of Lane's favored growers.
We also could not resist the Paso Robles 2014 Gewurztraminer that is made with grapes sourced from a higher, cooler valley with a small vineyard. It is a crisp, dry wine, perfect for summer sipping (no residual sugar).
Bianchi is located at 3380 Branch Road. www.bianchiwine.com
Tim Hunt