It seems natural when you are sitting around with your buddies eating and enjoying hot sauce on your food, that conversation would shift to what makes a great hot sauce.
Some will take heat over flavor, some the other way around and some want a combination of both.
Inevitably, someone makes the comment that they could make their own hot sauce, but seldom does anyone take the chance. Mike McAdams is someone who did more than just talk.
In fact, McAdams – who admittedly went down the hot sauce rabbit hole – took it to whole other level when he founded Fuego Box, a hot sauce membership club. That's right, much the same way a wine club works, you get shipments of hot sauce right to your front door.
"I was really diving deep into hot sauces," explained McAdams. "But it can be very risky. Some are very good, but some are bad. I have a strong passion for hot sauces and I thought people deserve good sauces."
In December of 2014 he had his first tasting party. He gathered a bunch samples of hot sauces and invited a group of people to rate each sauce. The scale went from 1-to-5, with a score of one meaning you never want to taste the sauce again, and a five-point ranking meaning you always want to have this sauce.
Any sauces that were rated 3 or above were then considered for release through the company. The method remains the same and it's something he always looks forward to hosting.
"It's all about the tasting parties for us," said McAdams. "We want to give everyone a fair chance."
From that initial tasting party, Fuego Box was formed. With a company goal to scour the Earth to find the perfect craft and small-batch hot sauces, and to deliver the best hot sauces people have never heard of, is certainly a unique concept.
It has been a success thus far.
There are three memberships available. You can have three different bottles shipped either monthly or quarterly, or have a single bottle shipped each month. The prices for the monthly and quarterly is $29.95 or $12.95 for the one bottle per month.
It might seem a bit pricey for hot sauce, but keep in mind, you are getting quality hot sauce that has been tasted and approved by many people. There is very little risk as to the quality of the product, a nice luxury in any industry.
Team Fuego goes through thousand of hot sauces to find the highest quality. They also do their due diligence to make sure the making of the sauces are done following strict regulations of the healthy code.
In other words, no bathtub hot sauces are being distributed!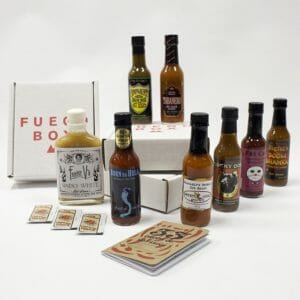 At first, the sample size was not very big, but as the company has grown, so has the number of sauces sent to the group for hopeful approval and distribution.
"We have trouble keeping up right now," said McAdams with a laugh. "At first we were trying to find nine good sauces."
My family and I went fortunate enough to get two boxes of hot sauce (6 bottles) to try. Included was a hot sauce log that allowed us to rate the sauces in terms of a heat meter, as well as flavor wheel.
Also included in the box were cards supplying additional information on each of the sauces, offering pairing suggestions as well.
Each of the six offered different characteristics, ranging from very hot to mild and everyone in the family found a sauce they liked. Some enjoyed the mild sauces, while there were those us that lived for the burn!
The one that drew the most favorable comments – also one everyone could handle – was the Honey Squash from the Butterfly Bakery of Vermont. It is great on thick soups and roasted vegetables.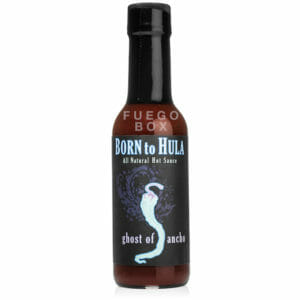 One of my boys and I opted for the Born to Hula Ghost of Ancho, which brings smokey heat to the table. Among the recommended pairings was to use the sauce on grilled chicken, which is exactly what we did, and it was a home run!
Here's the beauty of the company – there are ample hot sauces to choose from and if you don't want to be a member, you can also purchase hot sauces as a gift.
"We want to get delicious sauces out to people," emphasized McAdams.
Team Fuego opened a retail store in midtown Los Angeles in the last six months, but the company still is a mail-order business come first.
They also make some of their own hot sauce, but make sure not to push their sauce over others.
If you like hot sauce or know someone that does, you owe it to yourself to visit the web site and check out everything they have to offer.
To explore the wonderful world of hot sauce, go to http://www.fuegobox.com
By Dennis Miller