Editors note: I have known Ashley for over a year now, having met at our health club in Pleasanton. I have talked with her about Yoga and what it's all about. I see the number of students that take classes daily from Ashley and it's impressive given that the classes start as early as 6 a.m. On the weekend, the gym doesn't open until 7 a.m. but there are people lined up waiting for the doors to open so they can get a spot in her class. And it is people of all ages, shapes and sizes that come to her classes! We at ACES we consider ourselves lucky to have Ashley sharing her yoga expertise with our readers. We are going to start with Ashley introducing herself to you all and talk about what she sees in yoga. Thanks, and we hope you enjoy learning from Ashley!
My name is Ashley, and I am a full-time yoga instructor in the Bay Area. I have been an E-RYT 200 for three years now and have been practicing yoga for 10 years.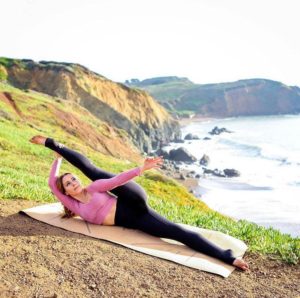 I've learned from many skilled yogis in the area who vary from having PhD's in anatomy to those who have traveled to India to learn under yoga masters. I received my certification to teach yoga from Dragonfly Yoga and Wellness in the Bay Area and received an intensive Teacher Training that thoroughly prepared me to teach yoga full time.
I teach a variety of yoga classes to multiple students from all walks of like. I have taught multiple veterans and even worked with gymnasts, seniors, amputees, rock climbers, professional football players, stay at home moms, complete beginners, and advanced students.
My classes focus on making each individual feel challenged while at the same time focusing on their own practice instead of the ego, releasing any sense of competition or feeling of not being good enough. I always offer modifications throughout my classes, and I always stress to not push your body past what feels good.
I strongly believe that yoga can help everyone in some way, as it benefits the mind, body, and spirit. Stress related diseases are on the rise now more than ever which is why yoga and meditation have become so important for us to practice. Yoga can also greatly help athletes of all ages as it helps with performance and reduces your chance of injury.
Yoga has personally helped me immensely as I am someone who has had a very stressful life in many ways and want to help reduce stress in other lives as well. When I'm not on my mat, I'm usually cooking homemade healthful, plant-based foods, playing with my dog, rock climbing, or hiking in beautiful California.
If you would like to reach Ashley you can e-mail her at  ashleyniccoleyoga@gmail.com.