When you want to visit Yosemite – who in their right mind wouldn't – you have the option to stay inside the park and deal with the pricey accommodations or to stay in one of the cities near the park such as Mariposa and a place like the River Rock Inn.
The wonderful little town of Mariposa is approximately 40 miles from Yosemite and enjoying all it has to offer would be the perfect complement to the park.
If you are going to stay in Mariposa, the River Rock Inn is a great choice. The oldest lodging property in Mariposa, the River Rock has only eight rooms, but the quaintness of the Inn adds to the enjoyment. It leaves you with the feeling you are visiting family, an impression that is enhanced by the friendly staff.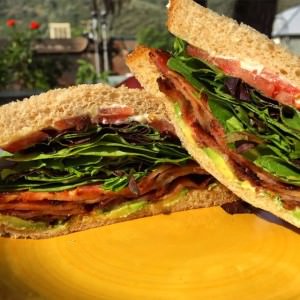 Located a mere block from downtown, the River Rock has a deli where the food is made fresh daily.  The husband-wife team of Jill Ballinger and Keith Williams have owned the property since January and they already have a winner.
The deli has become a popular spot and not just for guests. One morning, as I sat in the lounge with my lap top, I was blown away by the number of locals who flowed into the deli to get their lunch for the day. Ballinger pointed out that it is not unusual to do 150 lunches between noon and 1 p.m. every day.
Spend a couple days there and eat the food and it is no wonder the locals flock in during the week.
In addition to the deli, the River Rock has a spacious deck to relax and enjoy cocktails at the end of the day. They feature live music on occasion on the deck.  There is also a big fire-pit with plenty of seating to fend off any evening chills.
One of the many highlights of the property is the monthly "Shut up and Eat" promotion. On one Friday a month, Ballinger and Williams prepare a feast that guests pay a flat rate for. The kicker is the menu changes and you eat what they cook. There is no ordering.
We were there for the feast one night and it included ribs, delicious lamb meatballs, BBQ brussel sprouts and other offerings. You sit outside, enjoying the food and surroundings of the foothills. It's a great, relaxing evening and all you have to do is "shut up and eat."
When it is time to explore the town, head out on foot and take in the charming downtown area. The Alley Lounge is a wine lounge/beer garden with 16 rotating craft beers on tap.
It was the first time we have been to Mariposa, but rest assured we will return and the River Rock is where we will stay!
For more information go to www.riverrockmariposa.com
By Dennis Miller